Eth News and Links
Shapella (Shanghai + Capella) upgrade
Dencun (Cancun + Deneb) upgrade
Layer 1
For Stakers
Research
Layer 2
EIPs/Standards
---
This newsletter is made possible thanks to the funding received from Optimism's RetroPGF!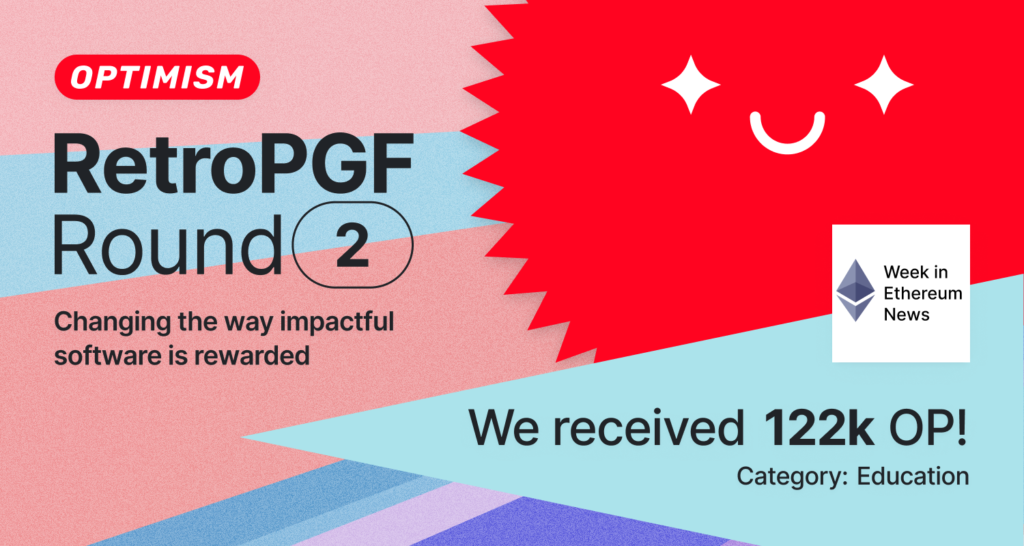 Thank you to Optimism's RetroPGF round 2 which generously funded Week in Ethereum News for "months, not weeks."
---
Stuff for developers
Security
Ecosystem
Notable at app layer
Ondo OMMF (money market funds token): KYC & 100k USDC minimum
Gandalf: tokengate Typeform, Notion, Substack, Medium, Gitbook & Google Docs, alpha
Metropolis podarchy explorer: visualize account relationships, permissions & multisig signers
---
Job Listings
Job listings: $600 for four issues (75 character limit), payable to abcoathup.eth. Questions? abcoathup at-gmail
---
Regulation/business/tokens
General/crypto
---
Follow @WeekinEthNews to find out what the most clicked links are. Follow @abcoathup and @evan_van_ness to get most of the week's news in real time.
Permalink for this week's issue: https://weekinethereumnews.com/week-in-ethereum-news-april-15-2023
---
Upcoming Dates of Note
(new/changes in bold)
Sign up to receive this newsletter weekly