Eth News and Links
Dencun (Cancun + Deneb) upgrade
Latest all core devs – execution (ACDE) call video. Summary by Tim Beiko. Notes from Tim Beiko and Christine Kim:

Cancun upgrade to include: EIP4844 (protodankscaling), EIP6780 (SELFDESTRUCT only in same tx), EIP1153 (transient storage) & EIP6475 (SSZ optional type)
Cancun may potentially include: EIP4788 (beacon block root in EVM), EIP6493 (SSZ tx signature scheme) & EIP2537 (BLS precompile)
EOF not in Cancun, discussed making main feature of future upgrade

EIP4844 devnet 5 successfully launched
KZG Ceremony: 91,000+ contributions, contribute with an account nonce of 64
Layer 1
Client releases
Consensus layer:
Execution layer:
Research
Layer 2
EIPs/Standards
EIPs:

EIP6953: Network upgrade activation triggers

ERCs:
---
This newsletter is made possible thanks to the funding received from Optimism's RetroPGF!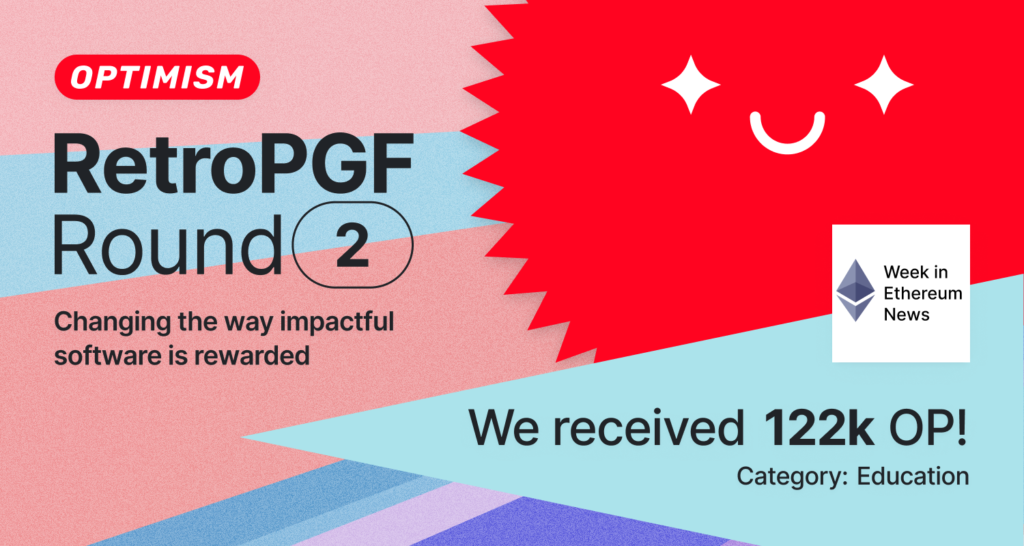 Thank you to Optimism's RetroPGF round 2 which generously funded Week in Ethereum News for "months, not weeks."
---
Stuff for developers
Security
Ecosystem
Notable at app layer
---
Job Listings
Job listings: $600 for four issues (75 character limit), payable to abcoathup.eth. Questions? abcoathup at-gmail
---
Regulation/business/tokens
General/crypto
TxRank: transaction anomaly detection tool using a Large Language Model
HyperNova: recursive arguments for customizable constraint systems
Zator: verified inference of a 512-layer neural network using recursive SNARKs
---
Follow @WeekinEthNews to find out what the most clicked links are. Follow @abcoathup and @evan_van_ness to get most of the week's news in real time.
Permalink for this week's issue: https://weekinethereumnews.com/week-in-ethereum-news-april-29-2023
---
Upcoming Dates of Note
(new/changes in bold)
Sign up to receive this newsletter weekly