Eth News and Links
Mainnet execution layer
Proof of Stake consensus layer
PoW switch off
merge-devnet-4 (precursor to public Kiln testnet) is live, had multiple forks but transitioned to PoS without intervention
EIPs/Standards
Layer2
Urbit naive rollup is live
Optimism fee explainer, how fees were lowered by 30%, fixed overhead now 2100 gas per transaction with a fee scalar of 1.24
---
This newsletter is made possible thanks to Kwenta by Synthetix!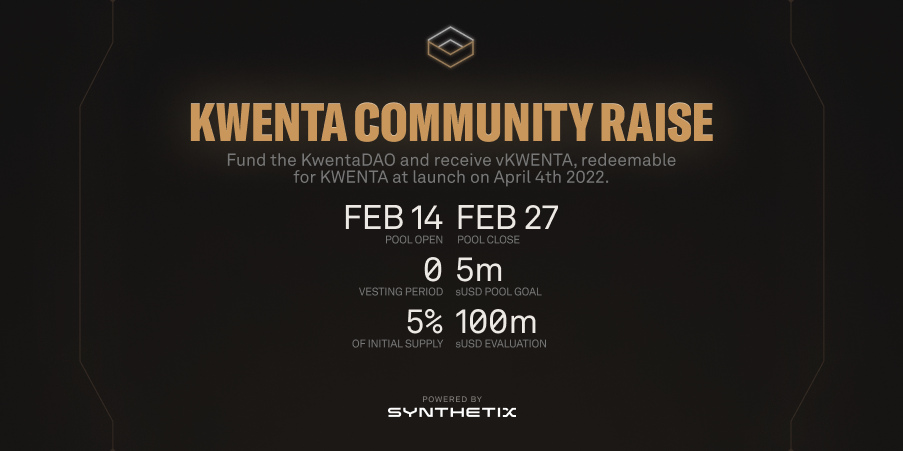 Kwenta is a derivatives trading platform, live on Optimism, offering real-world and on-chain synthetic assets using the power of the Synthetix protocol.
The Sovereignty Phase, an 8-week campaign marking the launch of Synthetic Perpetual Futures, Kwenta V2, and the KWENTA token, has just been kicked off and will include a community raise, trading competitions, liquidity mining rewards, and more.
To start the Sovereignty Phase, Kwenta is hosting a community raise, providing pool contributors with early access to the token.
The raise is live here on Aelin: raise.kwenta.io
---
Stuff for developers
Security
Ecosystem
Enterprise
Application layer
---
Job Listings
Reach developers experienced with Ethereum. $600 for four issues (~75 character limit), payable in ETH/DAI/USDC to abcoathup.eth on mainnet, Arbitrum or Optimism. Questions? abcoathup at-gmail
---
Regulation/business/tokens
General
Social engineering scam using token approvals
80 column default can be traced back to foolscap paper size from late 1400s
---
Follow @WeekinEthNews to find out what the most clicked links are. Follow @evan_van_ness and @abcoathup to get most of the week's news in real time.
Permalink for this week's issue: https://weekinethereumnews.com/week-in-ethereum-news-february-19-2022
---
Dates of Note
Upcoming dates of note (new/changes in bold):
Did you get forwarded this newsletter? Sign up to receive it weekly